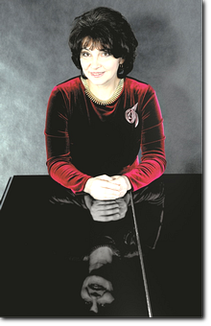 Irina Chukovskaya is a renowned Russian pianist with a rich and diverse career spanning Russia, the USA, and Japan. Currently, she serves as a visiting professor at Aichi Prefectural University of the Arts. Irina is known as a remarkable performer of romantic style music. She is a prize winner of numerous International Piano competitions including the International Frederik Chopin Piano competition in Warsaw, Poland. Ms. Chukovskaya also won spurs as an outstanding performer of modern piano music (she is playing compositions by Dmitri Shostakovich, Mikhail Kollontay, and Galina Ustvolskaya). As far back as in the 80's, her playing was described by Mstislav Rostropovich as "remarkable for its virtuosity, sound musicianship, and true artistry. She performs music of different styles".

She has performed in solo recitals and with chamber ensembles throughout: the Soviet Union, Yugoslavia, Poland, Italy, UK, Israel, South Korea, Greece, Hungary, Taiwan, the United States and Canada. She has performed in such concert venues as the Great and the Small Halls of the Moscow Conservatory, the Tchaikovsky Concert Hall, the Great Hall of the Budapest Conservatory, the Great Hall of the St. Petersburg Philharmonia, Palais Montcalm concert Hall (Quebec, Canada), Megaron Hall (Aphens, Greece), Weill Recital Hall, Cami Hall (New York, USA), and in many others.
She has performed with such conductors as Urii Simonov (Russia), Maxim Shostakovich (USA), Vahtang Djordania (USA), Kazuhiko Komacu (Japan), Pierre-Dominique Ponnelle (Germany), David Gilbert (USA), Janush Kovach (Hungary), Vladimir Ponkin (Russia), Sergei Scripka (Russia), Beatrice Brown (USA) and many others. A masterful collaborator, Irina Chukovskaya has worked with the Shostakovich Quartet, with cellists Victor Shpiller, Mariya Tchaikovskaya, Ksenija Jankovic, with the famous soprano Galina Pisarenko, and others.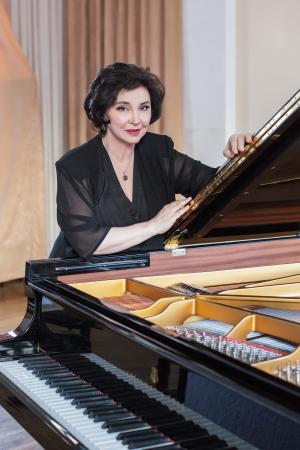 The past festival highlights include Caramoor, Kristianstad (Sweden), 'Patras – the Cultural Capital of Europe' (Greece), Russian Music Festival (Quebec, Canada), 'Pokrov's Autumn' (Novosibirsk, Russia), 'Moscow – to European cities', 'December evenings', Andrey Sakharov International Art Festival (Nizhniy Novgorod, Russia), International music festival named after V.Gavrilin (Vologda, Russia), International Rachmaninov Music Festival (Tambov, Russia), International Musical Festival named after I. Sollertinsky(Vitebsk, Byelorussia), Festival named after Heinrich Neuhaus and Stanislav Neuhaus (Moscow, Russia), and many others.
Irina has established a reputation of a musician of insight. She is a passionate interpreter of diverse composers from J.S. Bach to Dmitri Shostakovich and Mikhail Kollontay. Her repertoire is immense; it includes forty concertos with an orchestra. Ms. Chukovskaya has proven to be adept in expressing the essential heart of each composer. Her playing is characterized by the vivid figurativeness of performance, the rich variety of tone colour of the instrument sounding, and the delicate pianism.
In l985 Irina Chukovskaya became a soloist of the Moscow State Academic Philharmonic. In 1989 Irina moved to the USA and until 1997 her artistic career was developing rapidly in the United States. From 1993 to 1997, Irina had worked as a soloist under "Community Concerts", a division of "Columbia Artist Management". With the well-known Maxim Shostakovich as the conductor, she gave a critically acclaimed performance, in March 1991 as a soloist with the New Orleans Symphony Orchestra, USA. Altogether, Irina performed both solo and with orchestra in over half of the 50 states.
In 1997 Irina had to return to Russia for family reasons. She continued her concert activity and also embarked upon a teaching career. In 1999 Irina Chukovskaya started teaching at the Moscow Conservatory as the assistant to the great Russian professor Lev Naumov. Since 2000 she has been teaching in Gnesins Russian Academy. In 2017, she received the title of professor. Currently, Irina teaches at Aichi University in Nagoya (Japan). Irina is giving master-classes in the USA, South Korea, Hong Kong, France, Montenegro, Serbia, Greece, Italy, and the UK. In 2010 Ms. Chukovskaya was awarded by the Russian Government with the title 'Distinguished Service to the Arts of Russia'.
Since 2016, Irina has released four CDs. Soon is going to be released the fifth CD featuring Schubert pieces.
In 1980 Ms. Chukovskaya became a prizewinner in the Frederic Chopin International Piano Competition in Warsaw, Poland (as Irina Petrova). After the end of the competition her accompany from the Committee for State Security told Irina that the Soviet Ministry of Cultural Affairs wouldn't let her stay in Poland and continue her concert activity with other prizewinners. Irina had to return to Moscow immediately. Ms. Chukovskaya received a lot of invitations to play in Europe, but she wasn't allowed to leave the country. From 1980 to 1989, Irina gave over 400 concerts in major cities of the USSR, such as Moscow, Leningrad, Sverdlovsk, Odessa, Tashkent, and others. This situation started to change only in late 80s, when Irina became able to perform abroad.
Ms. Chukovskaya studied in Moscow at the famous Central Music School and at the Tchaikovsky Conservatory. Her professors there were the renowned Vera Gornostaeva and Stanislav Neuhaus. She completed her postgraduate course under the tutelage of Professor Dmitriy Bashkirov. In addition to this, she took lessons from Professor Theodor Lettvin at Rutgers University (1990-1993, USA).
Born in Tashkent, Uzbekistan, Irina began her studies at the age of 6 with the legendary piano teacher Tamara Popovich in Central Music School at Tashkent Conservatory. At the early age of seven, she toured through the cities of Uzbekistan with the Tashkent Philarmonic Orchestra performing the concerto of Haydn in D-major. She gave her first full recital at the age of thirteen.
Irina was born into a family of musicians. Her mother was a violin player in the Tashkent theatre of Opera and ballet, and due to this Irina was spending a lot of time in musical atmosphere. As a child she loved Carmen by Bizet, La Traviata and Aida by Verdi, and was singing by heart arias by Tchaikovsky.
In 2014, Irina Chukovskaya won the first prize in the International competition "The 21st Century Art" (Lempäälä, Finland) and was awarded the Grand Prix at II International Master competition for Music Teachers (Warsaw, Poland) and XV International festival-competition "Musica Classica" (Ruza, Russia).